Easy and Affordable, All You Need is in One Package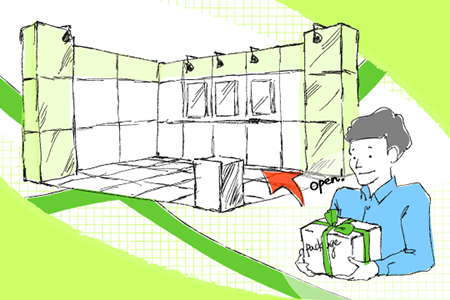 What is a Package Booth?
A package booth is an easy solution, which comes with walls, carpet, lights, rental furniture, and company signs. All necessary items are included in the package, so you don't have to make separate orders which enable you to save your time.
Show organizers usually offer very basic package booths, but if you really want to make a profit out of a trade show in Japan, we strongly recommend that you decorate your booth better than their package booths because using such booth gives attendees wrong impression that your company is minor.
Our Package Plans
◆ Design conscious.
◆ We selected items you need for a trade show, and they are all included in a package price.
◆ Wide variety of designs for 3 x 3 meter and 3 x 6 meter booths.
◆ Anything you see in a design drawing is included in a package, so no additional order is necessary to get the same look.
◆ We offer wide range of optional items for exhibitors personalize the booth.